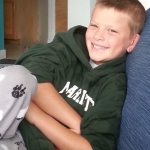 On June 24th 2015 the world lost an angel and kind hearted soul named Christopher D'Amico Jr.. This is a community to inspire others to spread kindness and laughter in Christopher's memory. On the 24th of every month please do one random act of kindness. This isn't a charity. It's a way to show how this world can be changed one random act of kindness at a time. It can be as simple as holding a door open for someone… or buying a cup of coffee for someone … That's it. Click on the link and find out why over 15,000 people have joined the movement and are changing people's lives, all in the name of a beautiful boy gone too soon.
The Dean Michael Clarizio Cancer Foundation. This foundation was founded by its namesake, Dean Michael Clarizio during his own personal battle with cancer. The foundation is tirelessly maintained by his family and friends in an effort to carry out his vision… the vision of helping others who face the challenges of cancer. Facing the biggest challenge of his life, Dean maintained an upbeat attitude and a selfless dedication to helping others. He welcomed spiritual, alternative and clinical treatments, and continued to embrace life as he did his family and friends. Dean's decision to start an organization to provide support for others facing similar challenges is testimony to the truly beautiful soul that he was. The foundation is operated by volunteers and is funded with donations by generous people such as yourself. We would love it if you were a part of Dean's team too. Click on the link above to see upcoming events we're entertaining at as well as all of the amazing things were doing to help others.
The Frances Foundation has a focused, devoted commitment to bring smiles to kids fighting cancer. The Foundation strives to alleviate a child's pain and suffering with a special gift, a special gesture, or even a few special moments. The Foundation also provides financial assistance to impoverished families desperately needing help due to their child's fight against cancer. The Foundation seeks to give compassionately to children and families dealing with extremely difficult physical and emotional challenges. In addition to direct aid to a child or family, The Foundation also supports research aimed to terminate childhood cancers. Helping kids is their passion. We are pleased to perform at their annual gala held every year on the 3rd Saturday of October. Click the link above to learn more about this amazing foundation.