It's all part of planning for the big day
Setting the date. Selecting your guests. Searching for a venue. Scheduling visits.
And choosing your Wedding Day Entertainment.
The entertainment is often the centerpiece of the event, setting the tone and pace of the day, making people feel comfortable, and creating a genuinely enjoyable party.
At D'Amico Entertainment we know it takes a true collaboration to make sure getting hitched goes off without a hitch. We use a "white-glove," boutique approach with our brides and grooms to ensure that everything is executed perfectly come wedding day. Our job is to let you relax and enjoy your affair.
With over 20 years of entertainment experience
We understand that this can be an un-nerving decision. With so many entertainment companies around, you might feel overwhelmed.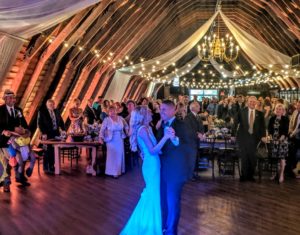 We are insured, full-time professional entertainers, each with no less than 10 years of experience. We have state-of-the-art equipment, carry back-up equipment and practice the utmost professionalism in everything we do. We strive to entertain young and old alike through a respect for all and an expert knowledge of all types of musical styles and preferences.
We offer Disc Jockeys, Bands, or our specialty: the "DJ Alive" package.
The "DJ Alive" package is a combination of live music and disc jockey/emcee service. It is the cornerstone of D'Amico Entertainment and only a handful of qualified entertainers are capable of performing this most sought-after package. Because of the limited number of DJ "Alive packages, dates go fast. Contact us for more information and availability.
Your music selections, bridal party line-up, and every detail will never be forgotten with our free online event planner—available 24/7 so you can plan whenever.
From the most intimate affairs to the most grandiose extravaganza, let D'Amico Entertainment make your wedding the one they'll talk about for years to come!
Ready To Book Your Event?